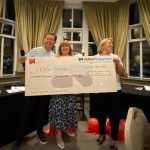 Held at The Belfry Gold Resort, this year's Paul Lane Memorial Golf Day was another great success and raised much needed funds for Crash Charity.
Organised by Volker Fitzpatrick, LBCs team (Michael Lansley, Adam Middleton, Paul Grisbrook, and Jatinder Phlora) stepped up and joined over 28 teams from the engineering and construction industry to provide enormous support for this fundraiser for CRASH Charity.
LBC were delighted to contribute 4 football match tickets to the auction which raised £1500.
Overall, over £19,000 was raised throughout this well supported event.
CRASH Charity assist homelessness and hospice charities with construction related projects, creating places that care for people. For further information visit www.crash.org.uk