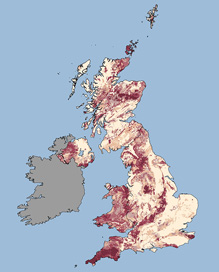 UKHSA launched the new radon map on 01/12/22.
Radon is a colourless and odourless gas that is attributed to many lung cancer deaths annually in the United Kingdom.  For most people, the risk of developing lung cancer from exposure to radon remains low and levels of radon have not increased across the UK.
The UKHSA advises you to test your home if you live or work in an Affected Area. There are several methods of reducing high radon levels in buildings.
The radon map allows local councils, national and regional governments, social and private landlords, private homeowners and employers to assess the radon risk in their properties.  It is also used in building regulations to inform where radon preventative measures should be incorporated in new buildings.