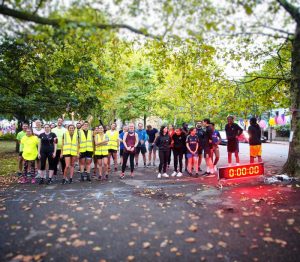 On 25 September CZWG Architects' first HI-VIS Run took place with over 50 runners and volunteers completing the 5km route.  Chelsea Way officially opened the event on behalf of the Stephen Lawrence Charitable Trust and spoke about how support matters as a fitting legacy to Stephen's memory.
The Stephen Lawrence Charitable Trust believes that architecture as a profession and the built environment that surrounds us should be designed by the people who live in it, celebrating and giving voice to the rich and diverse cultural heritage of people from every background.
All proceeds will go toward the Trust's Scholarship Fund at Newcastle University for two Black Asian and Minority Ethnic (BAME) students to study Architecture at the University.
The LBC Team would like to congratulate everyone who braved the tail end of torrential downpours to take part in the event.