Frankie is excelling in the sport and hopes to eventually leave his current bricklaying job and fulfil his dream of becoming a world level professional boxer.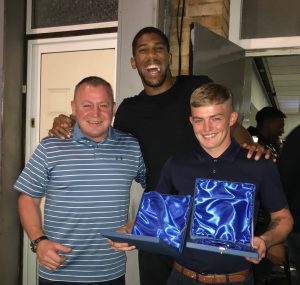 Fighting out of the famous Finchley & District Boxing Club in the bantam/ featherweight division, Frankie has won 37 out of 42 fights; has had 5 international bouts for England; is a four times Country and Regional Champion and is an Alliance National Champion.
He was also recently awarded Best Senior Boxer and Prospect of the Year at the club's Annual Awards Ceremony.  Heavyweight World Champion, Anthony Joshua, presented Frankie with his awards and commented "I've heard good things about you, keep up the hard work and dedication and it will all come soon".
All of us at LBC wish Frankie the very best with his future career.