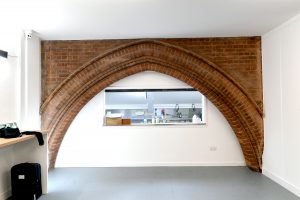 The Upper Room has been helping homeless and vulnerable people since 1990 providing free evening meals and essential survival services five days a week to 60-80 homeless and vulnerable adults. They run a multilingual employment support service, which aims to break the circle of unemployment and homelessness by helping people become job ready. They also run a driving programme which teaches ex-offenders to drive in return for voluntary work in order to improve their employment chances and reduce their risk of re-offending.
Their previous building space provided one large single-storey communal area which had to act as a dining room, training room, office space, area for receiving, sorting and distributing donations and a computer room. There was also no confidential meeting space, which is so important when working with vulnerable people. The only storage was on a fabricated mezzanine level which was unsafe.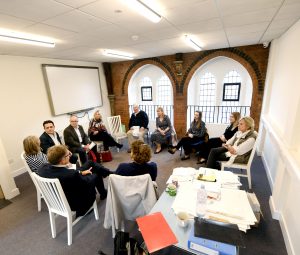 CRASH Patron companies joined forces alongside CRASH's supporters recently to deliver an entire additional mezzanine floor, the length and breadth of the existing space, which provides a training room, 1-2-1 rooms for confidential meetings, safe storage space, meeting rooms, a safe, accessible stairwell which will enable people to move between spaces.
The value of gift in kind support from CRASH Patrons and supporters, who donated their professional expertise and materials, came to an impressive £136,627. CRASH added a £35,000 cash grant to support the project bringing the total value of support to £171,627.
This is a great example of what can be achieved when the industry comes together through CRASH and London Building Control were only too pleased to provide Building Control advice on the project.