LBC would like to congratulate all at Chris Dyson Architects LLP and Studio McLoud on being shortlisted for this years RIBA London Awards and are pleased to have provided the Building Control service for both projects.
Out of 173 projects, 77 were shortlisted for consideration.  The buildings shortlisted are of a diverse typology and demonstrate the breadth of the capital's architectural output at the very highest level that the RIBA programme requires.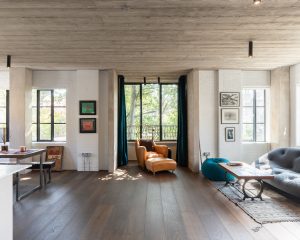 Albion Works by Chris Dyson Architects LLP – Albion Works involved the change of use, refurbishment and extension of a derelict Victorian cabinet making workshop in Hackney, east London.
The ground floor was converted and extended to provide studio/office accommodation and the 3 floors above were configured as warehouse style residential accommodation giving two one-bed, one two-bed and two three-bed flats.
Internally, a new concrete frame supports the existing building. Slabs forming ceilings were cast against sand blasted Douglas fir giving a rough, textured appearance and vertical walls and columns were cast against phenolic ply, giving a very smooth, almost polished appearance in contrast. Elsewhere the existing industrial materials of the building are expressed and celebrated.
A large tank below the building collects rainwater that is used to flush WC's and all flats are equipped with heat recovery ventilation systems that exchange heat from the outgoing air with incoming, reducing the load on heating systems.
Photo:  Peter Landers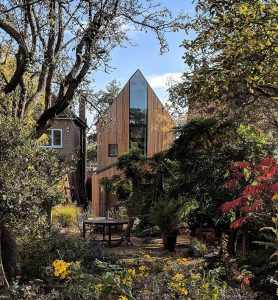 Epping Forest House by Studio McLoud – It was their client's long-held ambition to build herself a sustainable forever home in her existing community on the edge of Epping Forest. Together, they developed a brief for a lifetime home on the site of her existing house's garage. It was to be a light filled, crafted and sculptural home where she could appreciate her garden, furniture, paintings, and 'absolutely no drafts'!